Consumer Law and Auction Goods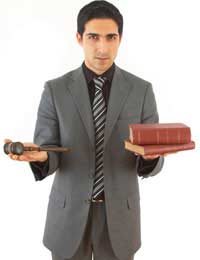 Before you go spending money at auctions it's well worth knowing how you're protected by consumer law – or even if it protects you at all.
Depending on the type of auction, your rights vary greatly, so it can be a little confusing. In many ways, you can be better off doing your auction buying online.
In Person Auctions
The 1979 Sale of Goods Act gives the consumer certain rights. When you buy something it must match its description, be of satisfactory quality, and fit for its purpose. If you buy something new at auction, or buy something second hand at an auction you could not attend, you still have these rights, and if the goods don't meet these standards, you have every right to return them for a repair, replacement or refund.
However, if the goods are second hand, you attended the auction and you were informed that the Sale of Goods Act didn't apply, and the auctioneer can show this was reasonable and you still bought the item, then you lose your rights.
Your contract is with the buyer, not the auction house, and they're not obliged to give you any details on the seller (the auction house does have some responsibilities in the sale, such as making no false statements about items, and these responsibilities should be posted and visible.
If the Sale of Goods Act does apply to the lot you bought, then you might get restitution if the seller is a trader. If it's a private individual, your rights alter. If the description proved false, you might have a claim – contact the auction house. Beware of guarantees, since they may not transfer to a new owner.
In the case where the item proved to be unsafe, caused damage or if the auction house has been negligent or made a false statement about the item, you might be entitled to compensation. Contact the auction house, showing your proof of purchase. With damage caused or unsafe goods, talk to a lawyer.
If you buy a vehicle at auction, you may find that you have no rights. If you do have a complaint, it might be best to start by consulting the Citizens Advice Bureau.
Internet Auctions
When it comes to Internet auctions, things become a little more complex. If the seller is a private individual, then as long as the goods are as described, you have no recourse – the rest of the Sale of Goods Act doesn't apply.
However, some sales on auction sites aren't auctions at all. If the item is "Buy It Now," it's not an auction, but a sale, and your rights depend on whether the seller is a private individual or a trader. If it's a trader, then your rights under the Sale of Goods Act apply. Additionally, because it's classed as distance selling, in most cases you'll have the right to a cooling off period of seven days, and the trader should inform you of this. You can cancel your order in writing, and the trader must return your money within 30 days.
Remember, however, that the basic rule of buying at auction is caveat emptor – let the buyer beware. Consumer rights can help protect you, but ultimately the responsibility lies with you.
You might also like...
I bought a 6 towel bale set x 50 from Haddon James. I was away didn't pay for the goods straight away after 48 hours.I was charged 5 % of the invoice as a late payment and they forced a payment with the bank is this legal? When the towels arrived they are very bad quality that I can't evenuse them for the intended purpose. I am planning to open a B & B. The quality is so poor I have never seen towels like this. The picture they used to advertise the towel it looks nothing like the towels I received.I cant even give them away apart from chucking them in a dumpster. What can I do. Thanks
Añgelica
- 16-Oct-17 @ 8:42 AM
@Gazzasarah - you should have checked the receipt. The auction house should conduct an investigation to see if they can find them in stock. It happens all the time in auction houses, stuff goes missing all the time. As you can imagine there is lots of stock. You would have to ask them for their complaints procedure if you don't get them back- but if they are not listed on the receipt or on their system, it's tricky to prove.
Si78
- 31-Aug-17 @ 12:47 PM
My partner and I recently took some goods belonging to a relative that had passed away to our local auction room. Amungst the goods werea number of boxed Hornby trains. The written receipt states "Hornby railway intense". However when I received the typed receipt these items were not listed. I emailed them asking why these items were not on the receipt but heared nothing back. As time went on I enquired again as to when the trains would be going under the hammer. I was told the dates. Now, to cut a long story short the auction house is denying I even brought the items in !! Where do I stand on this, as you can imagine I am furious !!
Gazzasarah
- 29-Aug-17 @ 7:18 PM
How long does the auction house keep online auction items that have been paid for before they can be resold? Does the auction house have to contact me before they resell?
Shaaron
- 26-Jun-17 @ 3:52 AM
My son purchased several lots from a farm auction today.He went and paid for them after he bid on the last item he wanted. Then when he went to collect the items one lot had disappeared.What are his rights? Should he be able to get the money he paid for that item refundedfrom the auctioneer?
Niki
- 10-Jun-17 @ 11:22 PM
My husband wanted to get valuations for a number of items including Poole vases and signed cricket memorabilia. Our neighbor was a jewellery specialist at a auction house and so he took them to be vauled, we have the paperwork on these estimates. We didn't sell and a month later he moved to another auction house. A month on he takes them to the new auction house, we now want to sell most of the items. However the auction house went ahead and sold all the items with incorrect reserves or no reserves in some cases, we don't have any paperwork and they admit themselves they gave no files on an account or any paperwork. Where do we stand legally, they have sent us a cheque which we have refused.
Vicki
- 9-Jun-17 @ 3:17 PM
I bought a soundbar with a wireless subwoofer from an auction house online. When I picked up the product it had a receipt in from currys that said "Faulty branch product non-saleable". As stated on the receipt the soundbar doesn't work. Can I get a refund from the auctioneer even if they say they don't claim to sell new or working products?
Ally
- 5-Jun-17 @ 7:46 PM
Oh boy - winning this Lot landed me in such mess. In brief I bid on a Pallette of laminate planks in'three shades' class C , meaning some of the planks were damaged. Before placing a bid I spoke twice to staff at the Auction house , explained that I was looking for enough laminate to floor two roomsrepresenting 40 sq metres , and so long as there was sufficient to do each of the two rooms , I would happily discard the rest as wastage. I was assured that a palette consisted of around 100sq m , and that I would easily achieve have enough laminate to cover two rooms with lots of good quality laminate left over ( damage was estimated at 20% of planks) I received approx 100 sq metres of laminate , currently I have identified at least eight distinctly different brands/types/sizesof non matching laminate, not one of which is sufficient to floor a single room of 20 sq m. I have spent hours trying to sort it into matching piles but have simply run out of space and energy to continue. It will take me at least 3 trips to the tip to discard . I see this as mis-discription , particularly as I spoke to staff at auction house before bidding. I intend to ask for my money - including the £70 courier charge I paid to them for delivery. Would you agree due to misdescription the law is on my side here, and what chance of recovery with delivery charges. The Auction House in question is Carter Lynch through Bidspotter asand the online auction host.
Stargazer
- 28-May-17 @ 8:13 PM
@Michael - If there is a problem with the goods at auction, usually you have to take action against the owner of the goods, not the auction house. At the same time the auction house must not make a false statement about the goods. So, you'll need to look at the catalogue and complain via the auction house first. Matt.
MParr
- 25-May-17 @ 2:57 PM
I bought a ring at Auction described in the catalogue as an Aquamarine for almost £300. When I sent it to a Gem Testing Laboratory to confirm it was an Aquamarine, it was proved to be a Synthetic Spinel. Considerably inferior to an Aquamarine and therefore worth a lot less than I had paid for it. What can I do legally?
Michael
- 20-May-17 @ 4:59 PM
I took part in a local auction house online auction not live but set out almost like ebay (my 1st step to setting up a ebay shop) when the auction finished i screenshot the page of all items (approx 50 lots), i won 6 lots which were highlighted in green saying bidding ended on this item and a thumbs up saying you won. i called them to ask about paying and was told it may be next day before invoice would be emailed to me, next day as soon as i go the invoice i phoned to say 1 lot is missing from invoice, to which i was told i did not win it, told them i has screenshot, they just saidthe person that had won has been paid and collected i'm afraid and we don't have a record of your bid on it!!! so i paid for other items and asked when i could pick them up, i was told next tues which is 6 days after (this was in rules pick up 18th 19th only) i asked how when i said about my missing lot someone had collected straight away. reply was they were here on other business and winged it as a manager was available!! the lot i did not get were designer items still selling online for £45 i had won 69 of them for £81 so they were going to make me more money out of all items i bid on, i still have a screenshot sayingi won, do i have any rights?
Darcy
- 15-Apr-17 @ 3:06 PM
I buy items from auctions,live or online. Recently, I bought 2 items from Bolton auction rooms. The first, was described as "Early 19th Century Bibles".But when I went to pay for them,they where dated inside the book,1936. So I complained and got my money back. The next item was described as "18th century hookah base".but when i went to collect it.i discovered it was mid 20th century.I complained , and got my money back. Then, I was informed , that this was the last time I could get my money back,because I had got refunds twice before,even if the items were described wrong. Does the auctioneer have a right to say these things to me.??.And do I still have rights to get refunds if the items where wrongly described in their catologue. ??
Doolo64
- 15-Feb-17 @ 10:51 PM
I had paintings taken to auction on my behalf and was given estimated value 30 each was informed they sold for less than half I thought is their anything I can do about this
Laine
- 11-Jan-17 @ 3:10 PM
I bought a mattress at auction - it was described as 135 x 190 Hanbury Superb - When it was delivered it was 150 x 200 Hanbury Superb They offered an alternative which I didn't like and they also offered supplying a divan base to fit the mattress which I haven't got space for or the bedding for, so this option was also declined They have now 'sourced' a 135 x 190 Hanbury Superb but I haven't had the opportunity to view the item I don't think I should be obliged to accept the item and that they should collect the original mattress and refund all fee's including the courier charge I paid to collect the mattress Any feedback or opinion would be appreciated
cole22631
- 15-Mar-16 @ 12:38 PM
I bought an item described as a body solid chin up exercise station only to find after that it was only a half of the machineor to put it better it came in two packages of which I have one so I was mislead or it probably is dangerous to anyone who tries to use it
gaz
- 28-Jan-16 @ 7:05 PM
topcat - Your Question:
If I bid on an item on a popular auction site, and I am the only one that has bidded and win with payment made straight away, can the seller refuse to release the item and return my money?There was NO "Buy it Now" or "Reserve" put on the auction. What are my rights in this case, if any.
---
Our Response:
As a rule the seller should release the goods. Should the seller not release the item, then I should get on to the site's complaints resolution team.
ExploreAuctions
- 27-Jan-16 @ 12:59 PM
If i bid on an item on a popular auction site,and i am the only one that has bidded and win with payment made straight away, can the seller refuse to release the item and return my money? There was NO "Buy it Now" or "Reserve"put on the auction. What are my rights in this case, if any.
topcat
- 27-Jan-16 @ 2:11 AM
@misty - I'd have a look at its terms and conditions. You may have to make a complaint directly to the auction house if you are not happy with its service. If you have your instructions in writing, it will give you more sway.
Ali
- 23-Apr-15 @ 12:32 PM
I put into an auction 7 lots bagged/boxedup into their specific categories which is how I wanted them sold.One bag contained equine tack etc which included bridles, harnesses, reins etc. I put a reserve of £60 on the lot and when I was told only two items had been sold and they had been two items from this bag cherry picked as they were worth in excellent condition £15 to £20 each but they had been sold for £10 and £5 and that is why I wanted the lot to be sold as one item.Is this lawful, I never agreed to it!
misty
- 22-Apr-15 @ 9:15 AM
If I leave items on consignment at an auction house, who is responsible for fire and theft insurance? Please advise. Thank you.
sunshine
- 25-Sep-14 @ 12:52 AM