Selling Collectibles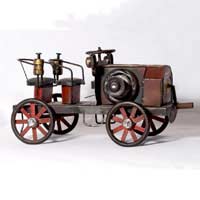 The collectibles market is booming and if you have some that you've been contemplating selling, now might be a good time to do it. The big question, of course, is what method to use to sell your items – there are so many possibilities these days.A lot depends on what you have to sell. The term "collectible" covers many fields, from music and movie memorabilia to toys and beyond, and each is quite specialised.
Selling On eBay
eBay is a great forum for collectibles of lesser value, although you will find some rare items on there from time to time (often they'll be part of a charity auction). In music terms, think of a rare CD or vinyl LP, or memorabilia like 70s pop star lunchboxes or games (those from the 1960s are much more valuable), for instance.
You'll find a good number of vintage toys for sale on eBay – old Subbuteo and Scalextric are prime examples, and often bring handsome prices. As with anything, it's finding the audience that's interested in acquiring these. A good rule of thumb is that if it's likely to sell for £150 or less, eBay is a good market. It's too small to interest the major auction houses, and you'll find an interested, active audience that's willing to pay.
Specialised Auction Houses
There are a number of auction houses that have sprung up dealing solely with collectibles. They generally concentrate on a single field (music, movies, etc.), and hold auctions regularly, either in-person or online.
These can be excellent for the next level of collectible – an item that will go for, say, £150 to £500 - £700. The people who buy at these auctions are the more serious collectors who are truly looking for items that pertain to their collections, and have money to spend. Although you'll pay a commission to the auction house, these can be very fruitful, as you'll usually realise a much better profit than you would on eBay.
It's a sign of how massive the collectibles market has become that houses like this exist – and that they can hold sales often. They do also deal in high-end merchandise, so if you have something especially valuable it might be worth considering them.
Major Auction Houses
The biggest of the auction houses haven't been slow to realise the value of collectibles, and do hold specialised auctions periodically. They're worth approaching if you have a particularly valuable item – Beatles items are always in huge demand, but excellent collectible material (with a provenance where appropriate – in terms of clothing, for instance) in any field will sell for high amounts.They're ideal for very rare items – a guitar that was owned by a major star is the ideal example, or a dress worn by Marilyn Monroe (the perennial queen of movie collectibles). In general terms, if an item is likely to go for £800 or more, this will be the place to sell it, although items have gone for up to half a million pounds and even more.
Always do your research thoroughly before selling any collectible. The more information you can provide, the better the price you're likely to get for it. Additionally, the more you know, the better you'll be able to judge its value and see which are the best markets for selling your item. Don't be afraid to set a reserve; don't let your item go for less than it's worth.
You might also like...
I have completed set of lotr castle unopened and other characters
Maz
- 26-Mar-21 @ 12:09 AM
I have whole collection of "Gone With The Wind" items ie: books, plates, figurines, porcelain card with wooden display case, watch, small music boxes and ceramic containers and dolls.Would like to get rid of it all.What do you think I could get for everything!
Robbie
- 18-Feb-20 @ 10:04 PM
I have a unopened bottle of beer from The Brexit Beverages company article 50, one of the first batch made.. I wanted to know if it's worth something.
Tina
- 31-Jan-20 @ 2:16 PM
I have a helm of king elemoil limited edition cost £800 new very difficult to get hold of selling for £400 I have box stand and certificate of authenticity
Jules
- 7-Oct-19 @ 10:50 AM
Hi.. I have a rare book. Ita a first edition jk Rowling Harry Potter and the philosophers stone from 1997. Would it sell? And how much about is it worth
Daniel Rourke
- 29-Aug-19 @ 6:41 PM
I have a full set of The Lord ofthe rings chess set 3. I have no board but i have the whole collection in mint condition. Im up for genuine offers. Unwanted gift.07709264681. I also have 30 DC comics its wide range but in mint Condition.I also have 30 annuals dandy beano etc. 6 of them the binders r missing but otherwise there in mint condition I have a limited edition filmcelin frame with certificate of lord of the rings and 1 plate. Bulk buy or seperate but only genuine offers pls.
Francesca Gemeli
- 12-Jun-19 @ 2:05 AM
I have a full set of The Lord ofthe rings chess set 3. I have no board but i have the whole collection in mint condition. Im up for genuine offers. Unwanted gift.07709264681
Francesca Gemeli
- 12-Jun-19 @ 1:58 AM
I have 6 storage box's of buffy the vampire stuff to sell books, statues, collectors cards. Badges, mouse pads , pencil case were can I sell?
Topgun296945
- 3-Jun-19 @ 9:05 PM
Hi there I have a gorgeous Steif Elephant Rocking Horse. Never used, covered & perfect condition which I am contemplating on selling. I have no idea where to go to do this.
I'm selling Aston Drake porcelain dolls mint condition authentication certificates and original packaging and also Franklin mint heirloom collections display plates limitated addition NEW with certificates open to offers Please feel free to contact me for further information or photos
Jade
- 14-Jan-19 @ 12:45 AM
I have an The lord of the rings series 4 The fellowship of the ring The two towers The return of the king Original 35mm filmcel Triple presentation Limited edition 249:1000 So there is only 1000 of them in the world would anybody be collecting them if so can you let me know please
Taylor Hothersall
- 18-Jul-18 @ 6:37 PM
I am looking at selling some limited edition Harry Potter and Star Wars film cells and also Harry Potter Mattel Actions figures from the philosopher's stone movie all boxed and in mint condition as well as Lord of the Rings Burger King figures with film cells. Where is the best place to sell them or are there any collectors who collect such things in uk
Mark
- 6-May-18 @ 8:44 AM
I am wanting to sell 3 pieces of Lalique they were gifts from Sir Elton John who I worked for for 10 years 1990 to 2000 they are 2 Yorkshire terriers and a vase with boxes and cards to say to me and from Elton and David.......
Lulu
- 29-Jan-18 @ 3:16 PM
I have a collection of Royal Doulton character jugs for sale ,some rare,which auction house or outlet would be best?
Tex
- 12-Oct-15 @ 8:28 AM
I have a huge collection of Lord of the rings merchandise from 22 plates to a limited edition weapons plaque would be willing to split or sell as an entire lot
Kitkat
- 24-May-15 @ 5:47 PM
have complete sets of fire memorabillia from south africa,shields/metal badges i would like to sell foto
johan
- 22-Jul-14 @ 7:44 AM
looking for charity auctions to sell sports collectables what it sells for i will give charity a percentage of the sale can you help me find those in new jersey
big guy
- 24-Sep-13 @ 3:21 PM