Consumer Law and Auction Goods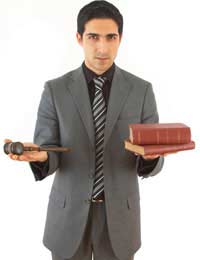 Before you go spending money at auctions it's well worth knowing how you're protected by consumer law – or even if it protects you at all.
Depending on the type of auction, your rights vary greatly, so it can be a little confusing. In many ways, you can be better off doing your auction buying online.
In Person Auctions
The 1979 Sale of Goods Act gives the consumer certain rights. When you buy something it must match its description, be of satisfactory quality, and fit for its purpose. If you buy something new at auction, or buy something second hand at an auction you could not attend, you still have these rights, and if the goods don't meet these standards, you have every right to return them for a repair, replacement or refund.
However, if the goods are second hand, you attended the auction and you were informed that the Sale of Goods Act didn't apply, and the auctioneer can show this was reasonable and you still bought the item, then you lose your rights.
Your contract is with the buyer, not the auction house, and they're not obliged to give you any details on the seller (the auction house does have some responsibilities in the sale, such as making no false statements about items, and these responsibilities should be posted and visible.
If the Sale of Goods Act does apply to the lot you bought, then you might get restitution if the seller is a trader. If it's a private individual, your rights alter. If the description proved false, you might have a claim – contact the auction house. Beware of guarantees, since they may not transfer to a new owner.
In the case where the item proved to be unsafe, caused damage or if the auction house has been negligent or made a false statement about the item, you might be entitled to compensation. Contact the auction house, showing your proof of purchase. With damage caused or unsafe goods, talk to a lawyer.
If you buy a vehicle at auction, you may find that you have no rights. If you do have a complaint, it might be best to start by consulting the Citizens Advice Bureau.
Internet Auctions
When it comes to Internet auctions, things become a little more complex. If the seller is a private individual, then as long as the goods are as described, you have no recourse – the rest of the Sale of Goods Act doesn't apply.
However, some sales on auction sites aren't auctions at all. If the item is "Buy It Now," it's not an auction, but a sale, and your rights depend on whether the seller is a private individual or a trader. If it's a trader, then your rights under the Sale of Goods Act apply. Additionally, because it's classed as distance selling, in most cases you'll have the right to a cooling off period of seven days, and the trader should inform you of this. You can cancel your order in writing, and the trader must return your money within 30 days.
Remember, however, that the basic rule of buying at auction is caveat emptor – let the buyer beware. Consumer rights can help protect you, but ultimately the responsibility lies with you.
You might also like...
I bought 3 Gold pins from a Online auction house, when they arrived only 1 was gold the other 2 were gold plated, auction house owner promised to send me some gold to compensate my loss 4mths ago….nothing from them, I did request at the time I wanted to return them but owner said he would look after me with other gold he had ???
Cooper
- 12-Aug-22 @ 6:30 AM
I spoke with a well know Military auction house about selling some of my military badge collection and told them that I was unsure which were genuine and which were copies and they suggested that I bring them to them and they will check them through. I requested they let me know prior to any decision and then after a few weeks, I got an email showing that 0ver 100 of the badges in bundles, ranging from 16 to 29 amounts had in fact been entered into their next auction without any prior notice to myself and when I complained I was informed that I could not remove them from the auction without paying large amounts of charges. When they sold it was in silly amounts when some of the badges had in fact been sold at previous auctions by the same company months before for single prices of over £200 each. The main problems is that the sale took place in the second week of this month and the buyer has still not paid and I am still not able to get the badges back from the auction company as they state that they have a right to chase the buyer for their payment.
Jacko53
- 27-May-22 @ 11:08 AM
My neighbouring Methodist chapel was put on the market and bids invited for the purchase by local Estate Agents. My bid was much higher than my neighbours bid by £11k and yet the Estate Agents and local chapel officials gave him the property. 1, My neighbour is a friend of a local chapel official and has donated money in the past. 2, TMCP and Charity Commission rules (all visible on line) clearly state 'Best Price' must be achieved for church property and a Qualified Surveyor's Report (done by the Estate Agents) must be supplied backing this up. Presumably this report was done. 3, I brought this matter of 'underselling' to the attention of the TMCP, TMCP's solicitors and the Charity Commission before the sale went through. However, I am either ignored or told everything was done legally. I am even ignored by the local vicar and my MP says it's a legal matter and won't get involved. Purchasing the chapel would have enabled me to use some of its land to widen my own roadside land and create a new front drive from the village street to my home, -which is currently only accessible from a muddy rear track. A smart new drive from the village street winding up to my detached house would have increased my house value by at least £50k. Also I would have been able to add a garden to the chapel and off-road parking via my new drive, which would have alleviated the on-street parking problem in the village. The local church official rigged the auction and chose her friend to purchase the chapel. The estate agent went along with it and filled in the 'false' QSR which was sent to the TMCP for signing off the sale. The TMCP takes the placating words of the local church official and refuses to investigate. The Charity Commission takes the word of the TMCP and refuses to investigate. The solicitors just pass everything back to their clients the TMCP. I haven't contacted the estate agents on why they collaberated with the local officials. Should I query this with them, even though they will refuse to reply? Who do I sue & how, please?
Angry1
- 25-May-21 @ 2:55 PM
I bought a land with planning permission at online auction from a popular auction house and 3 weeks later found out there's restrictive covenant on the land. It cannot be used for residential property. The search documents and the title wasn't posted to be downloaded until 1 week to auction but I had downloaded the initial documents without seeing the title documents which state the restrictive covenant. Is there any recourse or recovery route for me?
Biggy
- 15-May-21 @ 7:07 AM
I purchased a 53' dry van trailer at a online auction. The company never disclosed the trailer had a leak and both side ways where rusted to the bottom. they never took picture of them. they parked the trailer between two dirty trailers took a picture of the inside but because of the two trailers on the side the light didn't come through the holes. I wired my money drove 13 hours to pick it up and thats when the damages where discovered. I had to take the trailer or they would charge me 100 dollars a day. Is there anything I can do?
Brian
- 3-May-21 @ 2:20 AM
I purchased items from global auctioneers. I asked for appraisal. Whilst there appraisal wasn't very useful it didn't give me any issues with the items. When collected they have notices on them saying they don't work and are damaged. They refuse to give me money back ect as I didn't state what I wanted to know in appraisal. Do I have any rights.
Roni
- 3-Apr-21 @ 2:47 PM
I am currently in dispute with William George Auction regarding a recent purchase, I accidentally discovered after my bid that theitem value was exaggerated to attract sale. Is that legal, where do I stand legally
Raz
- 11-Mar-21 @ 5:04 PM
I bought goods from a well-known auctioneers and due to lockdown they've been posting things out. I recently bought cosmetics of them and they packaged too many item in large boxes which made the products to damage,leak and cause significant damaged. Ive took pictures and send the auctioneers an email stating the condition goods were delivered and how they were poorly packaged . Three weeks on they still haven't sorted anything out and I've recieved a phone call by their manager 2 days ago that if you asked for partial refund then we will suspend your account for further bids. What are my rights? And how can I sort it it out without them blocking my account as ive been buying of them for over 7 years
Njahan
- 15-Feb-21 @ 6:26 PM
I bought some new garden furniture at auction in May on the basis it was due 13/6. The furniture didn't arrive but date kept going back. I still have nothing and although they say they'll provide refund there is no date to do so. Is 3 weeks since promise, and that was after threatening legal. What rights do I have and how can I get my money back. It was 2/5/20 I paid for these. Thankyou for any help.
Dutchy
- 24-Oct-20 @ 10:54 AM
I bought a pair of stud earrings at auction and on taking them to be valued at a Jeweller some months later it turns out that they are Cubic Zirconium on silver not diamonds and Gold. The director of the auction house is very defensive and has no intention of resolving this to a satisfactory conclusion. Is there anything that I can do?
I purchased an Edwardian bedroom suite from a reputable Auction house late september, I have just noticed holes (woodworm) in the wardrobe and dressing table.There is sawdust noticable when the wood is tapped so the woodworm may be active. Has the Auction house any responsibility for this and could I demand a refund.
Mick
- 16-Dec-19 @ 7:28 PM
I purchased a Edwardian bedroom suit from Auction house in late September have just noticed a number of holes (woodworm) on one side of the wardrobe does the Auction house have any responsibility for this.
Mick
- 16-Dec-19 @ 7:19 PM
I bought a property at Auction which was described as having a upstairs bathroom and a AST, the bathroom was down stairs and there was no tenant. To add insult to injury the vendor claimed four months arrears for no tenant. Is the Auction house negligent as they sold it under Special Conditions . I was suspicious right after purchase and couldn't get any proof of missed payments.
Pop
- 19-Oct-19 @ 1:43 PM
I have previously bought an ex-Motability car from a car auction. Another auction house now sells such vehicles (which are usually low mileage and well serviced) but says it only sells them to "Account holders". Is this legal?
Mike
- 9-Sep-19 @ 5:47 PM
I recently purchased a 'Rolex' at auction. Unfortunately a few days later I was admitted to hospital. I contacted the auction house of this and that I would be updating them. During this time I decided to investigate the movement that is in the watch more, finding it only in Tudor watches, not Rolex. I know they are the same 'family' I have since contacted some watch retailers inc an official Rolex retailer. The feed back I have had is that the movement was never put in a Rolex as I suspected, and even can't be sure if the watchhas any genuine parts, as could tell that the watch hands were not right. The auction house is asking me to pay for the watch, and then re-enter the watch for me into another sale. Obviously I feel that the watch can't be re-entered into a sale now having the information I do. As things stand I don't feel that I should pay for something that is not as described, and knowing that it is not genuine, never being able to sell it on. Please advise on what I am able to do, as want to bring this matter to a conclusion. Many thanks, James
jimbo
- 28-Mar-19 @ 6:17 PM
06 March 2019 Hi, We sold a few items including used TV at a local auction this evening, and upon going to collect the cash at the end of the evening, we were informed that we could only collect our cash the following week. Is this legal? We were not informed prior to listing our items that these rules applied - at previous auctions at the same venue, we were paid out at the end of the auction. I would be very grateful for any comments.
RhodieBoy
- 6-Mar-19 @ 10:07 PM
I have been purchasing items from an auction house for some time and selling the items on with the profits going to a charity I support. I have been questioned about an item I put on a Facebook group being told this item should not be sold as the item is still being sold on the business website. Having bought this at Auction my understanding is that I can sell on without any issues. Please can anyone advise.
Nannie 2
- 5-Jan-19 @ 10:07 PM
Gwendo - Your Question:
What are my options on dealing with this matter.
---
Our Response:
You would have to complain directly to the person you purcahsed this from, who should try to rectify the matter. If the person doesn't, the online site should also have a complaints/investigation procedure.
ExploreAuctions
- 3-Sep-18 @ 2:29 PM
What are my options on dealing with this matter.
Gwendo
- 31-Aug-18 @ 7:53 AM
I just won a 6×3m gazebo on an online auction and it was advertised as "6×3m garden gazebo in black. But when I unpacked it was more of a windscreen than a gazebo as it had only 4 of the 6sides and no canopy. I would have kept it if only the canopy was they and no sides at all as it will still be a gazebo. But as it is its not as was advertised and not fit for purpose as it does not shelter from the sun or should I say have a roof.
Gwendo
- 31-Aug-18 @ 7:51 AM
Won an auction for a caravan on well known auction site, but seller refused to honour sale and sold to a third party who had not bid on the item.
Petetheheat
- 21-Aug-18 @ 12:29 PM
Put abid in for a van at auction. Received confirmation of bid. Auction was Saturday at 2.Van apparently van did not go through auction, and is now back up for auction today Monday. New to this, are they allow to do this? Seems a scam!
Krony
- 30-Jul-18 @ 1:11 PM
I purchased what was said to be a lazy spa it said compete on box .i viewed item but could it take everything out of box due to a lack of room. When I got home I found the actual spa was not in box, auctioneers say sold as seen no recourse.
Graham
- 12-Jun-18 @ 8:46 PM
I entered many lots of jewellery at a local auction house recently. Unfortunately one item, a diamond and emerald ring, has been lost by the auction house (who have admitted liability). I would like to know my rights as to how compensation is determined. I provided the auctioneer with an insurance valuation upon request and therefore am assuming they will claim for the full amount via their insurance. This amount is £5,500 but yet they are only offering to pay me what the reserve price for the item was, which is considerably lower at £800. Any legal advice would be very gratefully received. Thank you in advance.
Lainey
- 19-Mar-18 @ 12:19 AM
When selling at a auction and you put a reserve on something and the item doesn't reach reserve and auctioner asked me if I want to sell item and I said no but he sold it anyway is he aloud to do this ?
Bob
- 18-Mar-18 @ 1:24 PM
i had a man come from a auction house in chelsea london seven months ago he gave me a receipt for the items ,and told me they would go into the next auction but seven months on they still have not sold my items, and now they are lying to me saying only last week there was no sale to put them into and they would return the items to me,yesterday i phoned the aution house and they said they never said that to me.where do i stand in law ,about getting my goods back with out being charged for my goods.as they have not been in any sale.thankyou.
jonny
- 2-Mar-18 @ 11:17 AM
@Gray - you would have to read the description again to see if it said in working order. But, auctions are tricky as they are a law unto themselves!
PeNG
- 22-Jan-18 @ 2:59 PM
I recently bought a camera at auction bidding online, the description simply said "go pro hero 4" nothing about the quality. I suppose my own silly fault I assumed it would work otherwise why would they sell it but when the item arrived it didnt even turn on let alone anything else and when I called the auction house to explain it didnt work and asked for a refund they simply said "sorry but all items are sold as seen" is this right do I have no rights at all
Gray
- 20-Jan-18 @ 10:39 PM
I sold an item at auction that made a very nice sum of money , 5 weeks from the sale date i rang them to see if my cheque was in the post ,, only to be told the buyer has 'nt paid yet .. i'm absolutely fuming a phone call or email just to let me know what was going on would of been nice . The question is can i go and get the said item back now , because its not about the money now its the principle / customer service ....
the dime
- 9-Jan-18 @ 5:54 PM
I recently took a late 19th century wooden dispatch/lap writing desk to auction. It contained all the original pens, rulers, notebooks etc. The only damage was to the outside wood, which was repairable.I asked about putting a reserve price on it, but was told it wasn't necessary as they would get a good price.It sold for £30, which means that after paying fees etc, and VAT, that I end up with about £20.Online these go for the hundreds of pounds, even damaged.I consider this to be robbery. Do I have any comeback?
val
- 18-Dec-17 @ 11:50 AM