Buying a Holiday at Auction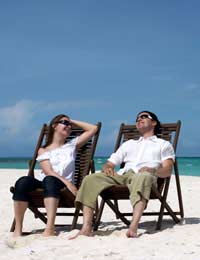 Over the last few years holiday auctions have become big business. Instead of the standard practice of going to a travel agent and paying full price for your break, users go to a website - many are available - and bid on the holiday of their choice that's on offer.
There are distinct advantages to the buyer, the biggest being the price, which is usually half of retail, and that can add up to considerable savings on a big holiday. Nor it is just holidays. Travel, be it flights, ferries, even car rental and coach travel can be found on some sites.
So what's in it for those auctioning off the holidays? As long as they set their reserve price correctly, they won't lose money, and since they only offer trips that are not already booked, it helps assure them that places are full. Some major operators, such as Thomson, have holidays available for bid, with departures from different airports - you can find something close to home.
With a poor economy, more people are likely to look into this option as a way to afford good trips abroad, or even short breaks. However, the range won't be as wide as you'll find at a travel agent, and you need to fit into the schedule of what's available for bid, rather than holidays working to your availability. With some flexibility, though, they can prove to be real bargains, whether you want to self-cater in Turkey, rent a caravan in England or jet off to New York.
Obviously, finding something in peak season, especially among the more desirable destinations, is unlikely - those will have been snapped up at full price. Often the packages will be last minute (although some sites do have month-long auctions), and there will be a greater choice during off-seasons.
How It Works
On sites like eBay you'll simply need to be registered in order to bid. Some sites, though, want a fee of £1.50 each time you bid, which means you'll want to think hard and not make too many bids. In other words, each site works slightly differently. In all cases, though, you will need to register, and be prepared to pay immediately if you're the winner.
Some sites keep bids hidden, and inform the bidder at a set time before the auction closes if they've been outbid. With others you can track the action. When bidding on a site, know how it works and what to expect. Those who are unsure would be wise to watch a couple of holiday auctions before venturing a bid.
Words Of Warning
Where the auctions aren't by established companies, or you're not sure exactly who is selling the holiday (which might be the case on sites like eBay), check a feedback rating. Watch out, too, if the holiday on offer is in fact a travel voucher - you might end up having to attend an arduous sales pitch for property or time share that can ruin a trip. If the terms and conditions associated with the voucher aren't displayed, request to see them before bidding.
Always pay by credit card. In the event of fraud or some miss-selling, this offers you a degree of protection, which can be useful.
You might also like...