Why Buy at Auction Instead of at Shop?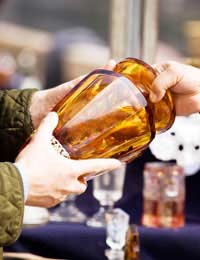 If you've never bought anything at an auction, why on earth would you want to start? After all, if you've seen sitcoms on TV, you know that with a wrong gesture you could end up buying something for a fortune that you didn't even want to bid on. Going to an auction can be a costly experience…can't it?
Well no, it can't. You'll find there's no danger of you accidentally making a bid by mistake, and the whole thing can end up being not just a lot of fun, but a great bargain hunt, too.
The Advantages Of Buying At Auction
Most of the time if you attend an auction, there really is all sorts up for grabs – think of it like a giant jumble sale or car boot sale. It's worth arriving early to take a look around the different lots that people are selling to see if anything attracts your attention – the chances are there will be something.
But why would you want to buy anything there? The chances are that buying at auction will bring you a bargain or give you the chance to own something old you might not normally see in a shop. Depending on the auction, you can also bid on something rare and beautiful – it might not mean you'll be buying a bargain, but if you have the money it can be a worthwhile investment.
However, there's more to it than simply money. Auctions are fun, it's enjoyable and exciting to watch people bidding against each other, and it can be a thrill to make your bids and win an item yourself. In fact, that can be the biggest pleasure of going, simply to experience the atmosphere, whether it's a small auction in a country town or something big and grand – and very expensive – at one of the top auction houses.
Making Savings At An Auction
You can make great savings on items at auctions. But that's only going to happen if you know the value of the items to begin with and keep your bid low enough to ensure you actually do bag a bargain.
In other words, know your stuff before you put in a bid. Take other things into consideration, too. If it's an old appliance, will it work? You might be able to try it out beforehand, but if not, you're taking a chance on something, so factor that into your bidding.
Unless you have plenty of money, for the more upmarket auctions you're likely to be an observer rather than bidder, but that can be a joy, too, and there always the bargains that do slip through the net. If you're attending an art auction, though, or any kind of specialised auction – wine, cars, or whatever – be very careful about bidding if others haven't. Generally speaking, those people are experts, and if they're not bidding, it's for a very good reason.
That said, if a picture comes up that you like and no one else is bidding on it, go for it. Unless you want to sell it on later, use the auction for buying something to your taste.
You might also like...