Tips For Buying Property at Auction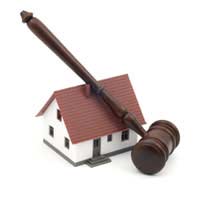 Buying property at auction is something that's become much more popular in recent years, and as more houses and flats are repossessed, more properties are being auctioned, as the companies that now own them by default want them off the books.
If you do decide to try your hand at buying a property at an auction, these tips will serve you well:
Before The Auction
When you see a property in the auctioneer's catalogue that interests you, visit it before you do anything else. There's no substitute for seeing something in the flesh. If you're still interested, research the area by talking to local estate agents and do a full land or property search to ensure there will be no problems of ownership later.
Have your financing in place. That's vital. Once you've bid on a property you'll have to put down a deposit – usually 10% - on the day, and pay the rest within the next 28 days, so there's no time to be chasing a mortgage once you've had a successful bid. If you're using your own cash, be very wary.
It's vital that you have a survey completed before the auction, and since there's often only a few weeks between notification and auction, that can mean a rush job. However, you need to be sure of the condition of the property. More than just obtain, take time to read the survey and ask questions. If there are doubts about the structural integrity of the property, get estimates on the work needed to correct it and decide whether it's worthwhile.
Remember that what you pay for the house won't be all you pay. There might also be stamp duty involved, and you might well have to come up with a buyer's premium for the auctioneer, which can be an additional 1.5%. Take all this into account when budgeting.
Considering that you'll need to deal with valuers and surveyors on any property that interests you, possible paying hundreds each time, you'll need to keep your property focus tight. Remember, however, that the simple fact that you've paid to get this information doesn't mean that the property will become yours. You'll still have to bid for it against the competition. Always take the time to examine the contracts of properties you might bid on.
It's worthwhile making sure that your valuation on a property lines up with that of the mortgage lender, since that will make any transaction move more swiftly and smoothly.
The Auction
Never bid at the first auction you attend. Go to a few beforehand as an observer to see how they work; it can end up saving you a lot of grief and expense. Learn the correct procedure for bidding, or have someone bid on your behalf – solicitor or surveyors are common substitutes.
Know just how high you can go in your bidding after factoring in all additional costs for a property. This is possibly the most important thing you'll need to know. Write it down, if need be, but make sure you don't exceed it, unless you have plenty of spare cash around. Auctions can be exciting – especially if you're one of the bidders – but you literally can't afford to be carried away.
You can find a property at a very reasonable price at auction. Just remember these tips, and things will go smoothly.
You might also like...
I attended a property auction and on the screen at the auction was lot 116, the house I planned to buy. The previous lot was unsold and I didn't hear the auctioneer state that the next lot he was to auction was to be the unsold lot but split into two flats. I was ready to bid for 116. The screen displayed lot 116. I raised my hand and purchased lot 116 for £15,500 some £4500 below the indicated catalogue price. I was so jubilant. Then the auctioneer started to auction 116 "again" and I exclaimed that "that's my house I have just bought" . It seems I had bid on a flat which was part of the previous lot which was not displayed on the screen. I complained to the auctioneer and he was very aggressive and ordered me "out of his auction room". Where do I stand?
Chris
- 14-Mar-17 @ 8:01 AM