Things to Look Out for on eBay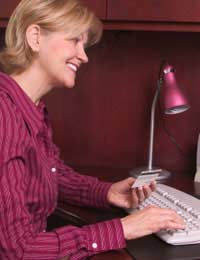 EBay can be wonderful to use, but like anything else where buyers and sellers are essentially anonymous, it's open to abuse. There are a number of scams operating on eBay, in spite of all attempts to stop them. It's important to be aware of the ways you can be fleeced in order to avoid them.
Items for Sale
You see a designer handbag listed on eBay. But how can you know it's real and not one of thousands of counterfeit goods produced and offered for sale? The starting price of the auction can offer a hint (true designer goods won't go for minimal amounts). Also, with everything you consider buying, check the seller's feedback.
A low number of transactions listed in feedback can mean either that the person is a new user, or has recently taken on a new ID. By itself, it doesn't necessarily mean you should be suspicious of the seller. Much more important is the feedback rating. Beware of anything under 90% and wary of a rating less than 95%.
It's not unknown for sellers to offer non-existent goods for sale. Again, you should check feedback before bidding and if you have any suspicions at all, it's better to hold off.
For a while, second-chance scams were commonplace, although less so now. If you'd been the second highest bidder, you'd receive an e-mail from someone purporting to be the seller. However, the link to buy takes you not to eBay, but elsewhere. Any official messages should come to you through the "My eBay" section, not via e-mail. If you receive such a mail, chances are it's not from the real seller – check the ID.
Beware too of the buy and switch scam. You sell an item of moderate value and the buyer emails you to say it's arrived broken, with pictures to illustrate. You refund his money and leave him positive feedback. What you don't know if that he already has the broken item and is now ahead by the amount you've refunded, plus the good item you sent, which he can re-sell. The difficulty is that it's almost undetectable.
Payment Scams
By far the majority of eBay scams revolve around payment and it can be both on items you've bought and ones you've sold.
With non-existent items, you can end up sending payment for goods that never reach you. Use PayPal, which offers you some recourse in the event of non-delivery. Watch out, too, if the seller suggests payment via Western Union. Once the payment is complete, it's impossible to trace the person you've paid.
As a seller, you need to be especially careful. If a buyer suggests something other than a straightforward transaction, be very suspicious. The more complex the transaction, the greater the possibility of being scammed. If you're paid by cheque, have your bank check that the buyer has funds to cover the amount and don't ship until it's cleared. A lot of sellers refuse to ship to countries in Africa, because there have been so many financial scams coming from the region.
With expensive items, always use eBay's escrow service, which protects both buyer and seller. If you're buying a car through eBay, always inspect before bidding and pay when you collect it (even though that eliminates eBay protection).
Much of the time, using common sense can insulate you from scammers. But it always pays to be aware of the possibilities and do everything you can to stop yourself becoming a victim.
You might also like...