How to Bid at an Auction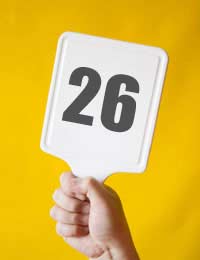 On the face of it, nothing could be easier than bidding at an auction. You simply make your bid and hope for the best. But bidding can be an art form and the more you understand it, the more likely you'll be successful at auctions.
At in-person auctions you'll generally be there to bid yourself, although you can also bid by phone, using either a third party or through an employee of the auction house.
Online auctions have developed their own bidding systems. The principal difference is that the bidder can nominate the highest amount he's willing to pay. As the bidding increases, his bids rise until they reach that maximum amount. When a bidder has been outbid, he's alerted by e-mail (or, if signed up for it, text message).
How Much to Bid
In essence, the amount you bid for an item is governed by two things – how much you can afford and how greatly you desire the item. If it's something you really want, it can be easy to get carried away and end up bidding more than you can really afford, so it's important to exercise strong self-discipline at an auction. Set an upper limit and stick to it.
Take time to look at the items before the auction and survey with a critical eye. Even if you've been anticipating a particular object, if its condition doesn't meet expectations, don't bid on it.
In some cases you'll have to register with the auction house before you can bid. This involves showing some identification and quite possibly producing a credit or debit card that the auction house can use if you are the winner on an item (you can, of course, also make other payment arrangements).
It can be worth gauging the competition for an item by holding back on your bid, especially if it's something likely to fetch a good price. On the other hand, items with little value should be bid on early – there might be few other takers and you can obtain them cheaply. In other words, there's also a strategy to bidding.
In an auction the auctioneer will generally state a price and if you're willing to bid you'll raise your hand, raise a numbered paddle or possibly nod your head (the source of many comedy sketches). From there the price goes up until only one bidder remains and he has then bought the item.
Bidding Online
Partly by virtue of the fact that you can automatically set a highest bid amount, online bidding requires a different style of thinking. But several other factors come into play. If possible, it's best to monitor the last five or ten minutes of an auction. Often bids trumping yours will come in at the last minute (quite literally!) – this is a common strategy and one you can employ yourself. If you're lucky you might have time to put in another bid. Don't rely on being informed by e-mail or mobile, since there's often a delay.
It can be a wise move to set your highest bid for an odd amount. Instead of, say, £13.50, go for £13.61; someone else might bid £13.50, see you still have the bid and be discouraged. For an extra 11p, you'll have secured the item.
You might also like...
I left AutoBids on the Saleroom with a UK auctioneer both of which were sold in the room at the value of the bids that I submitted. The legal definition of a Commission Bid includes the words Pre-Agreed to sell (to me). How can the auctioneer sell in the room if my bid was pre-agreed?
Geoff
- 30-Aug-18 @ 7:23 AM
Question: I bid for an item on an online auction.My maximum bid was £40. I won and I was charged £40 but did not see anyone else bid and there was no reserve.Can auction houses charge the maximum amount we are prepared to pay or is there a minimum that should be charged?
Shane
- 14-May-18 @ 12:08 PM