How to Avoid Buying a Wreck at a Car Auction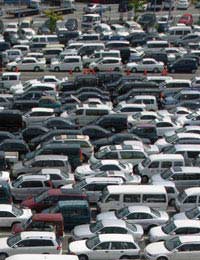 You might have heard from someone who knows someone who met a man who got a great deal at a car auction. Yes it can happen, and a number of people have done it. But before you rush off to try and find a bargain, be aware that you really need to know a good amount about cars – or take a friend who's a good mechanic – before you start bidding, or that bargain could easily turn into a lemon. Cars are sold as is, with no warranty of any kind.
How to Find a Reputable Car Auction
There are big car auction companies, several with a number of venues around the country. Before you go in, however, make sure the auctioneers are members of the Retail Motor Industry Federation, (Society of Motor Auctions); they have an established code of practice and work with the Office of Fair Trading, which offers you protection as a consumer.
Very carefully inspect any vehicle you might be interested in bidding on. Many will have faults, ranging from flood damage to having been in crashes. You really need to know what you're looking for to be able to assess the vehicles properly, which is why you need an experienced mechanic. Many faults won't be readily visible, and the seller is under no obligation to inform you of them.
You'll need to pay cash or have a loan in place for purchasing the vehicle, since auction houses don't arrange financing for you. The important thing to constantly keep in your mind is that once you've bought the car, it's yours, and you can't return it or ask for any compensation. If there are problems, they become your responsibility, and they can become costly.
What to Do At a Car Auction
Usually, you'll need to register at the auction in order to bid. The auctions open to the public generally don't have the same quality of vehicle as those opened to car dealers. However, the only way you'll get into those is if you have a friend who's a car dealer. But if you can manage it, you'll find some excellent bargains.
Be careful bidding at a public auction, and you'd be advised never to offer the first bid – you might well find yourself bidding on something no one else wants. Remember, a lot of the other bidders will be dealers and professionals. You'll have to pay before you can drive the vehicle away (assuming it's driveable, of course!).
Collectible And Classic Car Auctions
The high-end market runs somewhat differently. Often, the auctions will be run by a major auction house. Not only will you need to register, you'll have to show proof of financing, such as a line of credit, a loan, or, of course, cash.
In one of these auctions, you will at least be sure of the condition of the vehicle, which will have been carefully maintained or restored. Wonderful as the vehicles are to see, the prices can go very high for rare specimens, so be prepared to pay big money.
As a general rule, car auctions of any type can be real traps for the novice or the unwary. Be alert, be very cautious, but above all, know what you're buying.
You might also like...