How to Buy Art at Auction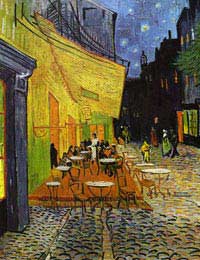 Probably the highest profile of all modern auctions are the art auctions. Record prices for major works by big names are broken regularly making the newspapers and evening news. The buyers are usually museums or very rich private collectors.
But those auctions are just the tip of the iceberg. There are many auctions where you can buy artwork for much less than millions of pounds – auction houses like Christie's, Sotheby's and Bonham's don't have a complete corner on the market.
Before The Auction
Good art will be almost always be auctioned through auction houses. You need to be on their mailing lists to be aware of upcoming events.
You'll also need to know your art. Paintings are commonly faked, especially those by minor artists, so the more aware you are of art history, and of painting techniques through the ages, the better you'll be able to judge.
Take time to inspect and research the paintings for sale. In most cases, they should come with a provenance, a proof of history and ownership that is generally accepted for authenticity (be aware that these can be forged, too).
You'll also need to have a good idea of the value of the paintings. If you're going to bid on something, know what other work by the artist is going for. You literally can't afford to be a novice at an art auction.
Set a limit on what you're willing to spend and stick to it. You'll be up against serious art collectors as well as art and antiques dealers, many of whom have deeper pockets than you.
Don't get drawn into a bidding war you can't win.
You'll need to register as a bidder, and in most cases, unless you've made special arrangements, you'll have to pay on the spot if you win an auction, so be prepared.
Bidding at an Art Auction
Be wary on your bidding – remember you're going up against professionals who know the field very well. If there's a piece you particularly like, don't start the bidding; if no one bids, the starting price will be lowered and you might be able to obtain it more cheaply.
Paying for Your Art
Methods of payment depend greatly on the level of auction. If it's a small affair were prices don't go particularly high, you'll be expected to pay in full for your purchase on the day, either in cash or using a debit or credit card.
When you move in more exalted circles, different rules apply. You'll have a letter of credit from your bank, and in general terms have to pay an immediate deposit with the balance in a set period, or arrange for the total amount to be transferred within a certain time frame. This is because many of the bidders are institutions with excellent credit, often back by government money, who need time to transfer large amounts.
To be fair, it's unlikely you'll discover a lost Constable or Turner in a small market town auction (although stranger things have happened). But that doesn't mean you can't have fun at an art auction and come home with a bargain. You might even find a work by the next collectible artist and find you have your retirement sitting on your wall. But since art is in the eye of the beholder, if you find a piece you love at a price you can afford, you've come away a winner.
You might also like...