How to Buy Commercial Property at Auction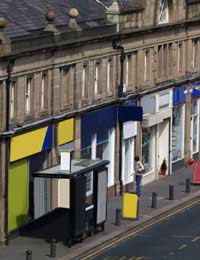 Buying commercial property as an investment isn't something for the novice or the unwary. The market is primarily made of up professional investors who have the money to spare (which most of us don't). In most cases commercial property and even bare sites go for more than residential property. You can end up realising a greater profit, but it can also be far more risky.
The vast majority of commercial property that comes up for auction in the U.K. is handled by just six auction houses. If this is a market you want to enter, you'll need to be very rigorous in doing your homework first in order to compete against the pros.
Research the Commercial Property Market
Even before you look at properties, attend several auctions to understand how they work and get a feel for them. You'll be going up against experienced people when you finally bid, so be prepared.
Chances are that the first you'll hear of an available property is when the auction is announced. Visit the site or building – never ever bid on something you haven't inspected. You'll need to have a surveyor with you – and you'll need to pay him from your own pocket. But a physical inspection is only part of your preparation. You'll also need a solicitor to look at the legalities of the property. How can it be used? What are the overall plans for the area? These are very important factors that can determine whether you want to consider bidding. Again, you'll need to pay the solicitor's fees yourself.
Location should be another major item on your list. How can you access to the site? Are the roads good? Again, what plans are there for the area? Is it retail or commercial? At times that can affect a property's price. What is the market value? What can you expect in the way of rents and tenants? Think about all this first.
Finance for Commercial Property
Before the auction, you'll need to have your financing in order. With commercial properties, this will generally be a line of credit from a bank or other financial institution, rather than a mortgage as you'd find with residential property. Don't overstretch yourself. It's far better to be realistic, certainly at first, than too ambitious.
At The Property Auction
You'll need to register to bid, and prove that you have financing in place before you can bid on a property. The chances are that you won't win the first couple of times you bid on a property, which will leave you out of pocket for the solicitor and the surveyor. But that's just part of the game.
Don't be the first to offer a bid; if no one bids, the auctioneer will lower the starting price. Above all, don't bid more than you can afford. Set a limit and stick to it. To go over can be a recipe for disaster.
If you win the auction, you'll be expected to show your proof of financing and exchange contracts. At times a deposit of 10% on the day is required, but almost always you'll be expected to pay in full within 28 days. Failure to do so can bring a breach of contract suit. Additionally, you'll be responsible for any difference between the price you offered and whatever the property brings when it's re-sold.
You might also like...